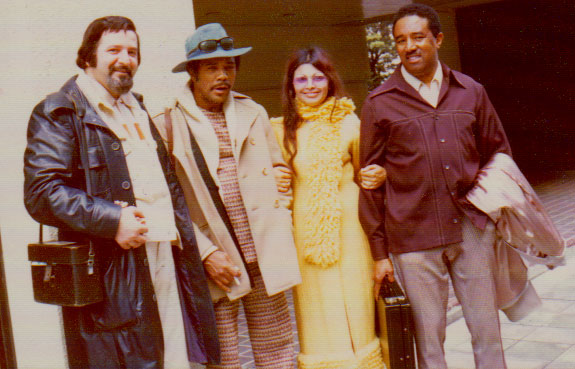 JAZZ ROYALTY

RON RULLY - QUINCY JONES - AURA RULLY - RAY BROWN
ON TOUR IN JAPAN IN 1974 WITH THE QUINCY JONES ORCHESTRA
"Duke also had a Rumanian-Canadian singer named Aura Rully who became the most important jazz voice in the world. He helped Aura in her career offering her after her Carnegie Hall debut one milion dollars assurance for her voice."
George Wein - Myself Among Others
After 1972, when you say Duke Ellington, you have to say Duke Ellington Orchestra and Aura Rully. Aura was his singer, and in every Ellingtonconcert, "Mood Indigo" and a lot of well known songs where interpreted by Aura. Duke Ellington used to present Aura, as "Aura from Romania" and he launched her in 1972 in Newport Jazz Festival - Carnegie Hall, where she won applause for 18 minutes and accolades as it follows : Aura's dazzling voice lends pops excitement.
John Kraglund - " There was nothing unexpected in the orchestral portion of last night's Toronto Symphony concert at Ontario Place. This was as it should be with Erich Kunzel on the podium and about 5,000 of his fans in attendance to hear his vigorous interpretations of pops concert standards (or standardized arrangements of non-standards). For those who are not symphony pop fans there was more excitement in much of the music by soprano soloist Aura, whose repertoire ranged from jazz to vocalized arrangements of instrumental classics, plus showtunes and disco numbers. Aura, a 33-year-old Romanian-born singer (daughter of the then concertmaster of the Bucharest Symphony) who now makes her home in Toronto as the wife of drummer Ron Rully, is better known in Europe and the United States than locally. According to report, her vocal range outstrips those of Sarah Vaughn and Cleo Laine -- extending to a B flat above Miss Laine's G above high C. After the sounds emanating from the Forum, last night, I am prepared to believe it. More important, there was admirable musicianship in her use of the voice, which has a clarity and richness that even the Forum loudspeakers could not distort.
The most agreeable evidence of her versatility was provided by a wordless arrangement of the Air from Bach's Suite No. 3, although its contrast between contralto and high soprano ranges was less dazzling than the bob version, also wordless, of Paganini's Caprice No. 24. The brooding intensity of B. Hughes' Special Way (title song of Aura's new record album) made it easy to understand why she had been favored by Duke Ellington as an interpreter of his songs.
Among the other assets of her performances were the full-throated shouting of Styne's People, from Funny Girl, and the Ighner/Wonder Everything Must Change."
_________________________________________
"Aura's CD "I Found Love Again" illuminates her voice control, articulation, grace and versatility on seventeen songs, a mix of standards and her five originals words & music …. Her natural feel for swing navigates harmonic subtleties easily and she understands the importance of economy & deft phrasing… so magnificently interpreted…. High Class!"
- Geoff Chapman, The Toronto Star
"Aura floats the voice, almost ethereal on perfect pitch" - Downbeat Magazine
"The stunning voice of Aura, whose incredible range is matched by her taste, imagination and tone control." - John Norris, Coda Magazine
"Aura, a voice with clarity, richness and admirable musicianship" - Toronto Star
"Aura, a beautiful, talented singer. Has a voice with incredible range that makes it sound more like a musical instrument, rather than notes coming out of the vocal chords." - Harry Stathos, New York Sunday Times
"Aura made as dramatic and sensational a Carnegie Hall debut as even the fevered mind of an old time Hollywood scriptwriter could imagine… dancing across notes way up in the threshold of the limits of hearing ending with a note flourish that brought the packed house to it's feet cheering" - John S.Wilson, New York Times
"Duke Ellington rose to the occasion at Carnegie Hall with one of the great performances of his career. The concert reached it's climax with some astonishing vocal virtuosity by Aura, a gorgeous singer"
- Stanley Dance, New York Saturday Review
"I have heard Aura featured with Ellington sing up to a high B flat above Cleo Lane's G. This puts her in a class with Lucrezia Agujari who so astonished Mozart when he heard her in Parma in 1770" - Henry Pleasants in his book
The Great American Popular Singers
"Stunning singing!" - Richard Flohil, Canadian Composer
"Aura, an original!" - Star Week
"Aura" - a voice with clarity, richness and admirable musicianship"
- Toronto Star
"A phenomenal singer…"
- Nat Hentoff, The Grove International Encyclopedia of Jazz
"Aura, a remarkable and beautiful soprano, Outstanding Singing."
- The New Yorker
"The accurate artistry of Aura. She simply sings… beautifully"
- Blake Kirby, Globe and Mail, Toronto
"Aura "spread herself across a myriad of musical styles, singing in many languages such as English , French , Italian , Spanish, Portugese , Russian , Hebrew and Romanian… carving a hefty international reputation"
- Jonathan Gross, The Star, Toronto
_________________________________________

For your interests, about Aura Rully, Aura has one of the most brilliant, expressive and improvisational voices of our time. Her interpretations of the masterful writings of the Jazz classics and original material reflect a new freshness in vocal artistry.
As a singing phenomenon, her career encompasses every possible direction, from Pop to Folklore and from Classical to Jazz, which includes concerts, television shows promotional jingles and recordings.
She has won accolades and prizes such as the prestigious Europe Cup. The European Press Prize and superlative reviews in the New York Times, Downbeat Magazine, Toronto Life and The New Yorker for her concert, records, and television appearances.
Aura has toured with world giants such as Quincy Jones, Duke Ellinton, Thad Jones, and Mel Lewis. Her appearances include such prestigious venues as the Newport Jazz Festival, Village Vanguard, and Carnegie Hall. From Tokyo to Toronto, Sydney to Stockholm, New York to Nice. Aura thrills her audiences who enjoy her within the Jazz Trio setting to The Symphony Orchestra.
So Duke Ellington for 2 years was glued with Aura, then he passed away....
_________________________________________

https://www.youtube.com/watch?v=pEHT693h0Zs
http://www.youtube.com/watch?v=APisU5QIwGo
https://www.youtube.com/watch?v=S564I40O30s
https://www.youtube.com/watch?v=ECv8fQcA0Pw
https://www.youtube.com/watch?v=x9r77hlLJ2s&list=RDEhQJzZOw4yA&index=3
https://www.agerpres.ro/flux-documentare/2016/12/14/documentar-marea-artista-
aura-urziceanu-implineste-70-de-ani-08-25-00

_________________________________________


"Aura, a jazz singer who has performed with some of the world's top artists, marks her first performance in Barrie since she moved here last summer. This weekend's concert will also be her first since the death of her husband, a famous drummer, earlier this year. She has a voice that captured the attention of some of the world's greatest jazz artists — from Duke Ellington to Ella Fitzgerald, Quincy Jones and Sarah Vaughn — yet she stopped touring in 2010 because of her husband Ron Rully's illness.
His health was also why the couple moved to Barrie last summer, seeking a quieter environment than Toronto where they had lived for the past 35 years. In his lifetime, Rully performed with many of the big bands, was a member of the Moe Koffman Quartet, recorded with numerous artists from Oscar Peterson to Anne Murray, and also had his own group. The couple, married for more than 43 years, has Duke Ellington in common, although they performed with him at separate times in their careers. "My husband played with Duke before, when he didn't know me," said Aura, recalling a particular performance at Carnegie Hall when Ellington singled Rully out during a concert. "I was singing with Duke and his orchestra when Duke says to the audience, 'I'd like to introduce you to Canada's number one drummer.' He (Ron) was in the audience."
Look for her to revisit that time in her life with a retrospective of Duke Ellington's music at the Barrie Jazz & Blues Festival in June. For the Barrie concert, Sunday, she will be appearing with longtime friend James Rohr, on guitar. He has also been the sound engineer on her records. "There's going to be a little bit of jazz. I'm going to do some lovely songs, a little bit pop-ish, serious songs, with beautiful words," said Aura. "It'll be a very pleasant afternoon, I can promise you that."
She was born in Bucharest, Romania, and grew up surrounded by classical music. Her father was concert master with the symphony orchestra and her brother, four years younger, followed in his footsteps to become a professional violin player. Aura's vocal talent emerged very early and she sang from the times she was a little girl. She was a natural and a fast learner even though she didn't take any formal lessons until her late teens. While she likes all kinds of music, jazz is her favourite. She was just over 13 years old when she recorded a big-band song.
She started scatting before she even knew what it was. She was just bored with the lyrics. She found out what scatting was when she heard Ella Fitzgerald do it. It was CBC that brought her to Winnipeg in October 1969. Her first appearance was as a guest on the Ray St. Germain Show. Sell-out performances at Club Morocco, the only jazz club in Winnipeg, followed. It was where Ellington spotted her, taking some time out from a concert he did there to drop by the club. After jamming together the next day, he sent her a ticket to New York and she performed with him full-time in the U.S. until his death two years later, in 1974. Over the course of her career, Aura has recorded four of her own CDs. She also composes her own music."
Susan Doolan - The Barrie Examiner