8:00 P.M.
A "GIANTS OF JAZZ" CONCERT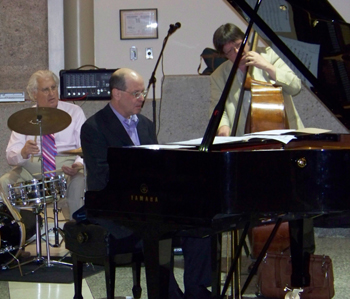 THE MARK EISENMAN TRIO
NEIL SWAINSON - Acoustic Bass
MORGAN CHILDS - Drums

PRESENTS

"IN WALKED BUD"

A RETROSPECTIVE ON "ONE OF THE TWO MOST SIGNIFICANT PIANISTS OF THE STYLE OF MODERN JAZZ THAT CAME TO BE KNOWN AS BOP." HIS VIRTUOSITY AS A PIANIST LED MANY TO CALL HIM "THE CHARLIE PARKER OF THE PIANO".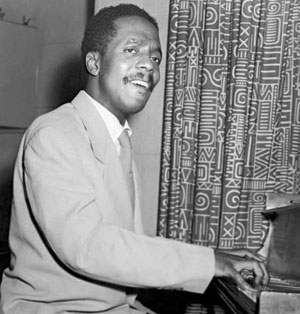 BUD POWELL

Earl Rudolph "Bud" Powell
September 27, 1924 in Harlem, New York City, U.S.A.
– July 31, 1966
_____________
"If I had to choose one single musician for his artistic integrity, for the incomparable originality of his creation and the grandeur of his work, it would be Bud Powell. He was in a class by himself." - Bill Evans, 1979
"... Bud Powell is the most important pianist in jazz and one of the most underrated .... Bud Powell was imitating Charlie Parker. So Bud was the first pianist to take Charlie Parker's language and adapt it successfully to the piano. That's why he is the most important pianist in music today because everybody plays like that now."
- Bill Cunliffe, in an interview with All About Jazz

No one could play like Bud; too difficult, too quick, incredible!" - Thelonious Monk
"Bud is a genius." - Charlie Parker
"Bud is a genuine genius." - Duke Ellington
"He laid down the basis of modern jazz piano."
- Dizzy Gillespie
"Bud was the most brilliant that a spirit might be, a unique genius in our culture." - Max Roach

_____________
The Jazz Report's 1999
Acoustic Pianist of the Year
Mark Eisenman is one among a handful of the top 'in-demand' jazz pianists in Toronto. Born in New York City but based in Toronto since 1972, Mark started studying the piano with his father. By the age of eighteen he had resolved that he would be pursuing the piano as a career interest. He entered into the music program at York University and after a short time discovered jazz music. With his introduction to this idiom his musical interest peaked.

Under the tutelage of John Gittins and others, Mark ultimately took a degree in Fine Arts, and as testimony to his continuing dedication to the learning process, currently conducts jazz workshops at York as a part-time faculty member. His teaching has expanded to include "The Jazz Camp" and classes at Mohawk College in Hamilton in addition to a lot of private teaching in his home studio.

Mark has performed in many different venues with numerous eminent Canadian and U.S. jazz artists including the following: Blue Mitchell, Woody Shaw, Nat Adderley, Ed Bickert, Rob McConnell, Sam Noto and Pat LaBarbera. He has also had numerous radio appearances and is well represented on recordings, the latest of which is Mark's debut recording as a leader, "The Chant". He has toured Canada extensively with various groups.

"His professional status is based largely on his skill and versatility as an ensemble player, but what marks him most is an ability to produce, no matter what the musical company, distinctive well-structured solos".
- Toronto Star
_____________